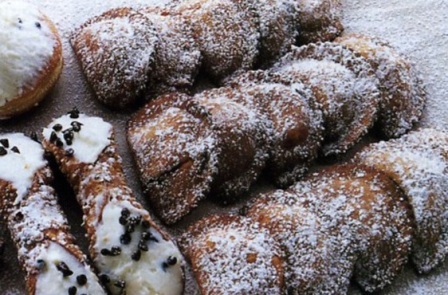 The pastry: for 40 cannoli, mix in a bowl 500 grams of white flour, 100 grams of lard or margarine, a little salt and one teaspoonful of sugar and 1/2 glass of vinegar.

Work the flour, adding water until you get a solid dough. Take little portions of it and roll it out with a rolling-pin to obtain a thin round sheet about 12 cm across.

Roll these sheets of dough round a small cane cilinder, sealing the Joins well. In a rather large frying-pan, heat about 1 litre of oil, in which you will fry the sheets of dough until they are a nice golden colour; let them cool and remove the canes.
At this point prepare the creamed ricotta. Over a low flame melt 400 grams of sugar in a little water and add 1 Kilo of well sieved sheep-milk curd.

Stir all the time, letting it thicken and add aroma with vaniglia and the grated rind of a lemon or an orange. Take off the gas and when it is cold, add little pieces of chocolate and candid pumkin.

With this cream, fill up the pastry forms you have aeready prepared and decorate with thin alices of candid orange and icing-sugar.